Overview
As already indicated in the previous blog on the topic "Ardupilot Mega Rover with the smartphone remote control", now, after some further work on the topic, a new Android(TM) app "udpRC4UGV" with rover-specific functions is available. The most important enhancements are the selection of the flight mode and the toggling of channel 7 making a number of APM special functions available.
Description
As outlined in the previous blog a PiKoder/SSC wRX receiver replaces the standard RC receiver in the rover. The smartphone RC uses WLAN for command transmission: the PiKoder does offer an access point (AP) to which the smartphone will connect.
The remote control app offers a variety of user interfaces: from simple key control to a virtual joystick to an accelerometer-based option.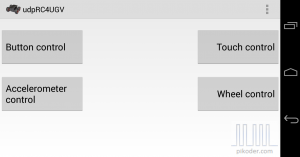 In addition to the general controls for remote control, each user interface also offers the possibility to choose the flight mode. In addition, channel 7 can be triggered via the "CH7" button (for example, in LEARNING mode, the current position is saved as a waypoint).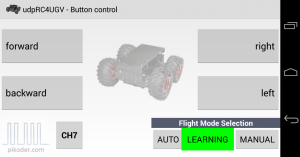 The app is available free of charge from the Google Play Store. The User Manual can be downloaded from the PiKoder website; it describes not only the program operation in detail, but also the hardware setup.