Some time ago I bought a Metz remote control transmitter 191/1 on ebay. The description stated that the transmitter had been converted to a connection to 12 volts (plug for cigarette lighter).
When I looked at the transmitter a few days ago, I came across an interesting inner workings: in addition to the expected DC voltage regulator for 6 volts according to the battery voltage, a circuit board was built into the battery compartment with a relay, wire potentiometer, motor and a break contact.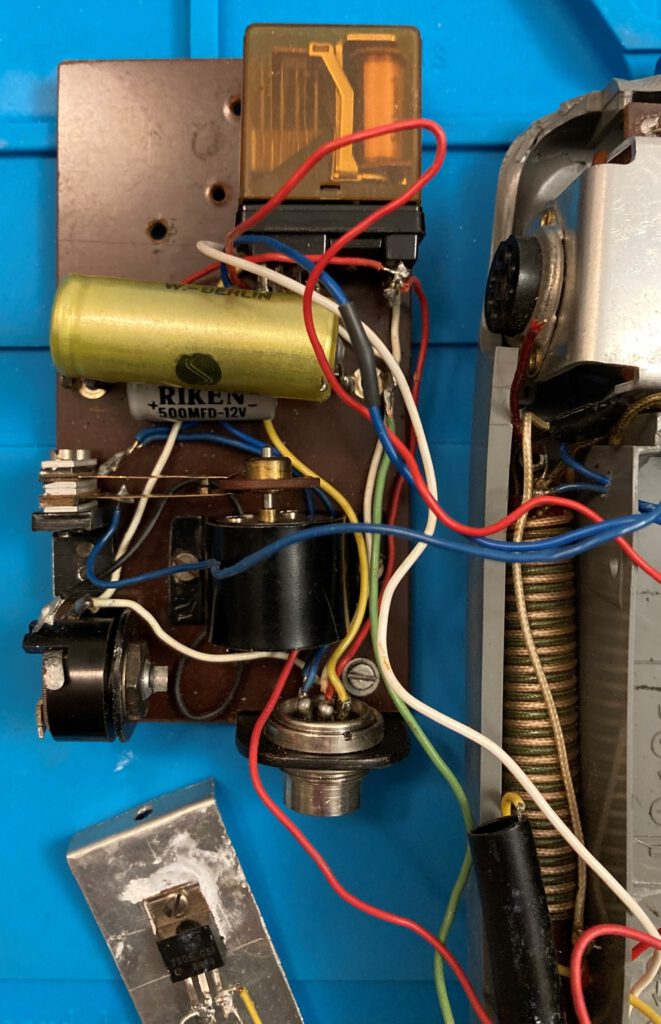 After a few tests and considerations, it soon became clear that the transmitter would be clocked by the motor with an interrupter. The switching disk on the motor ensures a pulse-to-pause ratio of 1: 1 and the pulse length can be adjusted via the rotary resistance.
At first this was astonishing to me, since the remote control technology of the time worked more with tone frequencies than with pulse lengths and I tried to imagine the required receiver logic.
After doing some research, I came across the following publication in Funkschau issue 21/1965, in which the process is well explained. Apparently someone has recreated the logic of the transmitter using electromechanical means.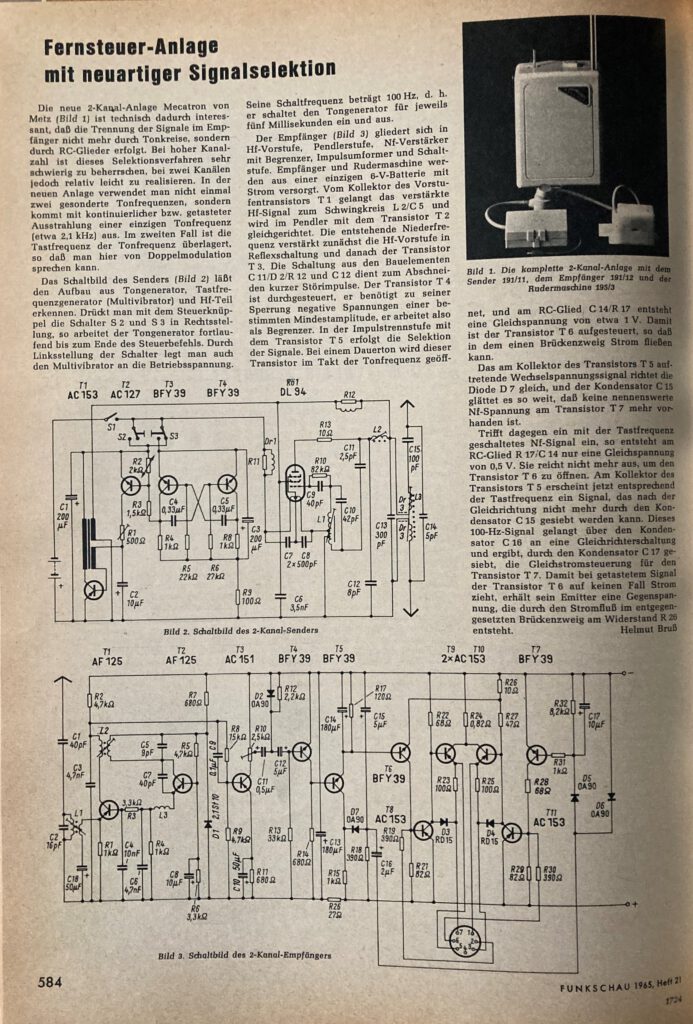 I am not sure whether the approach worked, as my system is quite "built-in" – the integrated voltage regulator is probably the result of a later adjustment / repair, the mechanical and soldering quality are very different, so that the attempts by several owners are assumed and the structure found will certainly not work with its current wiring. But maybe this conversion was also presented in a model making or electronics magazine? – I would be very grateful for any relevant information!
The description of the Metz system in the radio show gives a pulse duration of 5 ms. This would correspond to an engine speed of 6,000 rpm. My measurements with the oscilloscope show that the contacts are at a pulse length< = Bounce heavily for 20 ms. On the other hand, based on the receiver circuit, I can also imagine that a reliable channel differentiation is possible even with larger pulse lengths. As soon as I can get hold of a working receiver, I will check my thesis.
To be continued…